PTFE is commonly known as teflon, plastic king. PTFE paste extruder, it is a machine specially made of ptfe tubes. The tube is commonly known as a capillary, sleeve or hose.Equipment line from the beginning of the raw material to the sieve powder, mixing, aging, billet, extrusion, winding, cooling, cut off this complete process,produce a variety of hose products to meet the requirements. Subject to use, specification, ingredients, user requirements and other related factors,at present, can design and produce different specifications of the PTFE paste extruder machine.The teflon hose it produced can be widely used in military industry, chemical industry, medical treatment, aerospace, mechanical equipment, heat exchange and other fields.
According to customer requirements for different designs, there are intelligent automatic and simple. Simple type is designed according to the needs of some companies alone, mainly used for testing, manual adjustment operation control, equipment cost is low, suitable for small batch production. Intelligent automatic control by PLC, touch screen setting, automatic adjustment of extrusion speed, temperature control, extrusion tube quality control.
SUKO PTFE MACHINE TECH CO., LTD specializing in the development, production and sales of fluoroplastic equipment,with years of experience in the field of tetrafluoride equipment, our equipment has served the international market in nearly 40 countries and regions. Our customers are involved in the medical industry, aerospace industry, military industry, chemical industry, automobile industry and various mechanical, pipeline and spare parts industries.It has been widely recognized by the international fluoroplastic industry.
Corporate Value:Innovation, technology, efficiency and intelligence.
Mission: to create the world's first brand of tetrafluoride equipment.
1. FEATURES OF PTFE PASTE EXTRUDER
Paste extrusion of various specifications of dispersed material tetrafluoride tube;

Vertical installation extrude, can extrude 2-15 meters per minute;

Extrusion length can be customized according to requirements;

Intelligent control of equipment, stable operation;

Maintenance is convenient, transmission is flexible, structure is easy to install;

SUKO provides complete set of equipment, necessary auxiliary equipment and technical solution;

SUKO provides operation process technical guidance;

Multi-layer material tube can be extruded;
2. EQUIPMENT OPERATING ENVIRONMENT REQUIREMENTS
Three floors are needed to install the equipment,operate on the third floor,keep the operating space clean,don't let any dust in.Pre-process material preparation room,used to mix raw materials and additives, curing the raw materials.Place the sintering oven,mixer and electric sieve.A hydraulic station is placed on the second floor as a maintenance platform.First floor pipe extrusion, winding finished product.

For large tubes with outer diameter over 50mm,it needs to be squeezed from the top down,this operation level is about 8-10 meters high according to customer requirements;

For tubes with outer diameter less than 40mm,the whole height is about 13-15 meters;

We can customize the equipment according to the actual floor size of the customer.

According to the product characteristics, in order to ensure the physical characteristics of the extruded tetrafluoride tube, currently the international vertical extrusion, no horizontal extrusion.

Under normal circumstances, a square load bearing needs to be from 500 kg to about one ton, and the total weight of the equipment is about two tons.

The blank making machine covers an area of about 1 square meters, and the extruder covers an area of about 1.5 square meters.

Industrial electricity standard: 380V, 50Hz, 3P, the voltage can be customized according to the user's demand.

The simple equipment needs to be equipped with compressed air.
3. EQUIPMENT GENERAL PARAMETER
Main Technical Specifications

No.

Items

Technical Specs

Extruder PTFE tube range:

1

Out diameter range

0.5mm – 70mm

2

Wall thickness range

0.1mm – 3mm

Main Extruder machines

1

Power

3 KW-10 KW

2

Cylinder Diameter

20mm-300mm

3

load cavity length

400mm – 2000mm

4

Extruder Type

Vertical Downward or Upward type

5

Press type

Hydraulic

6

Voltage

380V 3P 50Hz

Preforming Machine

1

Power

1KW -10KW

2

Cylinder Diameter

20MM-300mm

3

Blank high

400mm – 2000mm

4

Press type

Hydraulic

5

Extruder Type

Vertical upward

6

Voltage

380V 3P 50Hz

Sintering Furnace

1

Power

2-10 kw

2

Sintering zone

3

3

High

8000-9000mm

4

Temperature

500 degree

5

Voltage

380V 3P 50Hz

Control system

1

Control panel

Touch screen program control system

Note: Paste Extruder is designed by different extruder line according to exactly tube size range.
4. EQUIPMENT INSTALLATION INSTRUCTIONS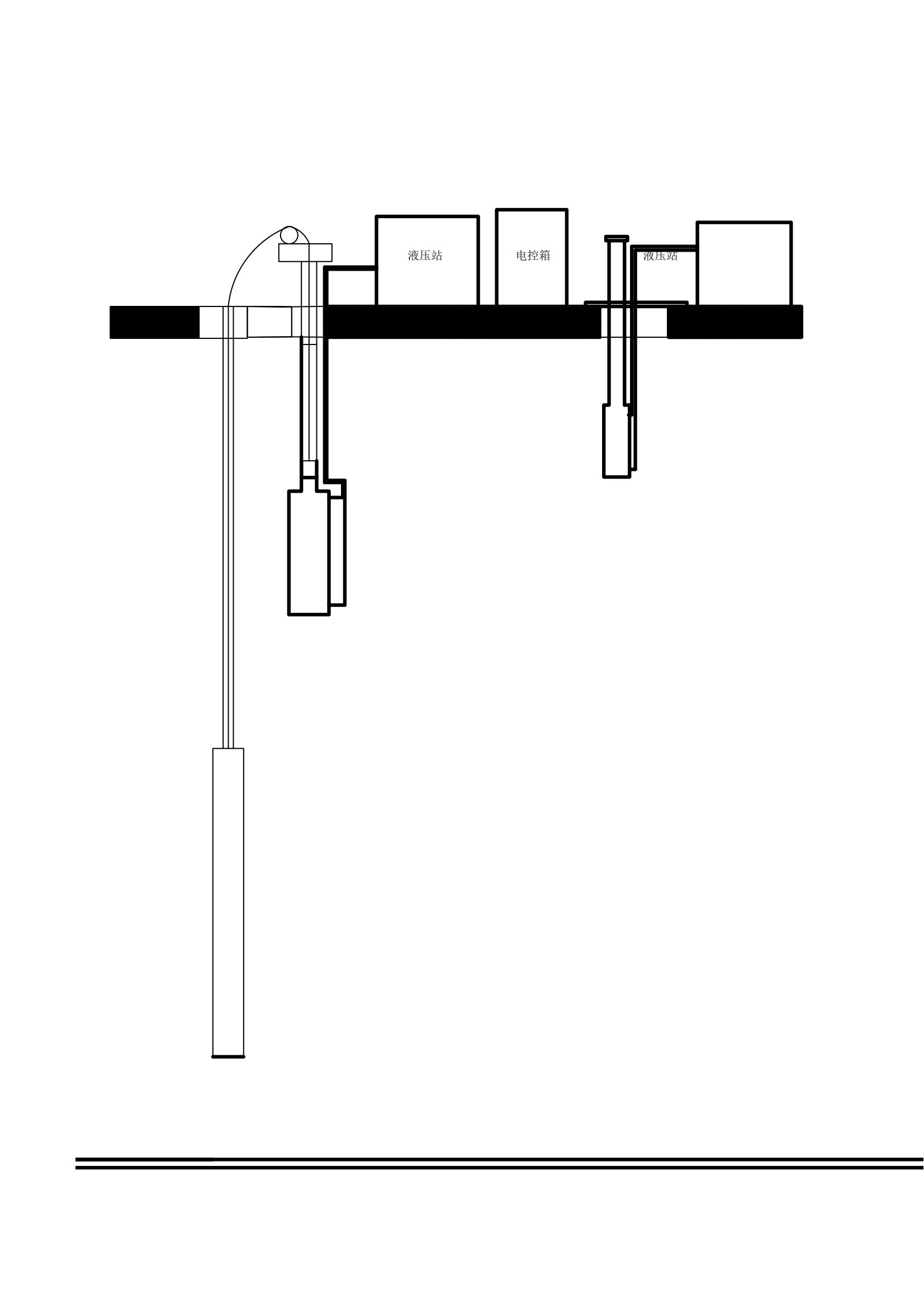 5. EQUIPMENT OPERATION PROCESS
Check whether the power-on voltage and power of the equipment are consistent, and the line connection conforms to the wiring diagram.

Check the hydraulic oil position, check the hydraulic pipeline connection is correct. Confirm compressed air connection

Check whether the mold is installed correctly and confirm the manual operation and debugging

Power on, through the PLC system to set the pressure, temperature of each temperature zone, holding time, extrusion speed and other parameters

Place the prepared teflon billet into the extruder

Stand by and start the machine

Roll or cut the extruded tetrafluoride tube into desired length.

After use, turn off the machine and clean the mold.
6. EQUIPMENT AND MOLD MAINTENANCE
Regularly check the height, cleanliness and temperature of hydraulic oil

It is recommended to replace the hydraulic oil every six months

Replace seals if they are worn

The mold should be cleaned and maintained timely, and the surface should be coated with a thin layer of protective oil

Handle the hot ring temperature sensor gently and store it properly
7. DESCRIPTION OF SPARE PARTS AND ACCESSORIES
The necessary parts of the equipment are sent to the customer along with the equipment

A list of the main parts of the equipment is sent to the user along with the equipment

When customers purchase our equipment, In addition to the necessary accessories, we will provide necessary spare parts for users to replace,servicing installation,spare parts are standard parts and can be purchased in local market
8. TECHNOLOGY GUIDE MODE
Due to the special technology of the equipment, you can go to the factory to learn the installation, debugging, operation, mold changing, maintenance and process guidance of the equipment for free before delivery.

If the distance, personnel, time and other inconvenient factors affect, we can not come to our company to learn, we can in the other party agreed to arrange engineers to come to guide the equipment installation, debugging, operation, mold change, maintenance, process guidance

We can also provide remote guidance, and users can choose other ways such as telephone, video, mail to learn equipment installation, debugging, operation, mold changing, maintenance, process guidance, etc.
9. ABOUT AFTER-SALES SERVICE
The warranty period of all parts and main machine is one year from the date of sale

If there is any problem, contact the customer service staff to explain the problem in time. Our customer service staff will follow up and solve the problem within 24 hours.

If the customer has a local distributor of our company, we will cooperate with the local dealers to solve the problem.

If the customer's demand is urgent, our company will provide video technical support in time
AFTER-SALES SERVICE TEL:+86-0519-83999079 / +8619975113419
10. OTHER RELATED OPTIONAL EQUIPMENT
Optional Machinery
1

Electric sieve

To loose powder before mixxing

2

Mixer

To mixxing powder with Liquid lubricant

3

Sintering Oven

To sintering powder with liquid lubricant

4

Destaticizer

To Remove electrostatic from tube after extruder before sintering

5

Winding Machine

Automatic wring tube

6

Corrugated Machine

To make corrugated tube OD 8-50mm

7

For other tetrafluoride equipment, please contact our company for consultation